Visit site
Summary
Our total score:
4.75/5
Unikrn stays true to its name and remains a unique esports gambling platform with exceptional opportunities. From its inception, it was focused on esports and has achieved the greatest results, making it a favorite place for many gamers and punters. Such acclaim is easily explained by a pure look, great odds, surprising promotions, and an array of betting options. This site is close to being perfect, were it not for a few inconveniences.
Read on to find out what impressed us and what left us disappointed about Unikrn.
PROS
An extremely large selection of games and matches
Multiple betting markets
A range of supported crypto coins
Unique gaming and betting modes
CONS
Customer support available during specific hours
Some limitations in payment methods
About the Company
Unikrn came to be in 2014 as a joint effort of Rahul Sood, founder of VoodooPC (a company specializing in creating custom computers, eventually acquired by HP) and Microsoft Ventures, and Karl Flores, a co-founder of an advertising agency Pinion.
Within a year, the revolutionary esports gambling startup based in Seattle, Washington received considerable investments of about $10 million coming from celebrities like the owner of the NBA's Dallas Mavericks and the "Shark Tank" investor Mark Cuban, a Hollywood actor Ashton Kutcher, and some less recognizable investors and companies that saw the potential.
They were not wrong, as Unikrn has grown immensely since, having introduced several unique betting modes, launched its own crypto coin, Unikrn Gold (UKG), and co-founded and became a sponsor of the Berlin International Gaming (BIG) league. All of this, as well as the ever-expanding catalog of games and some of the most impressive lists of leagues and betting markets, has been attracting more and more bettors who will agree that this is the place for esports enthusiasts to be.
Esports Offered
5.0/5
With the Unikrn esports catalog, you're in for a real treat. The times when you could only spot the most popular titles like CS:GO, Dota 2, League of Legends, and Overwatch are long gone. The site currently offers 30 games, but we are sure that the number may be outdated soon enough. Listing all the available games here would only take up space, so you better head there yourself and check whether your game of interest is on the list. Unless it's some major titles like StarCraft 2, PUBG, Fortnite, Mortal Kombat, NBA2, because they definitely are.
The coverage of the games is also exceptional, and you can expect to see more leagues than other sites have to offer. Besides, if there are no current or upcoming matches, you still get to bet and win via various modes we'll talk about a bit later.
Odds
5.0/5
All the innovative modes and the widest ranges of betting options would be pointless if the odds weren't any good. Luckily, they are good, and quite often very good, actually. And with the variety of events, you can be sure that there will be something for everybody, whether you are a newcomer looking for some safe bets or a hardcore punter ready to risk and take the house. It's also great to see how attentive the site runners are to details like the odds format, which can be adjusted in your profile, whether you prefer a decimal, fractional, or American one.
Markets Variety
5.0/5
So, we've got lots of games, lots of matches, but what can you bet on in those? It's not only a match winner, we'll tell you that. The more popular games will, of course, have a wider variety of things to bet on. For League of Legends, it will be the first team to slay the baron on a certain map, the total number of barons slain, inhibitors/towers destroyed, etc.
For CS:GO, the available markets include total maps played, rounds handicap, explosion/disarming of the bomb, first blood, and so on.
Speaking of the betting variety, this is as good place as any to briefly go over Unikrn betting modes that offer some unique possibilities.
Umode
This is the mode that allows users to bet on themselves after connecting their gaming accounts. The system will set certain objectives based on your history and prowess, and you can bet on yourself achieving them.
Connekt
This is another mode letting you win by playing the game, only no betting is involved. You will be rewarded based on your performance. Don't expect any special rewards here, but it's still a nice bonus.
MoneyMatch
If you enjoy playing online games against other people, you might as well do that with some money at stake. Invite others or join the games to win rewards from a prizepool generated from entry fees.
Virtual
Unikrn has found a great way to fill the gaps between the matches. They have gathered a library of previously recorded matches that are selected for streaming by a random generator. This offers a whole new dimension of betting and practicing accessible at any time.
Unikrn Bonuses and Promotions
5.0/5
Some sites go all in with their bonus offers, others withhold those in order to offer better odds instead. Unikrn manages to offer the best of two worlds. Their welcome rewards may be the largest out there, as it grants you up to 300 dollars that have quite achievable clearing requirements. That is, if you deposit 100 dollars and more, being able to start wagering with at least 400 dollars in your wallet. This 300% match bonus is still applied for smaller deposits, starting with 10 dollars.
Besides that, there may be other promotions for specific modes like free Umode bets. And then there are daily loot draws, granting all kinds of rewards, from cryptocoins to skins to games codes, etc. Something is always happening here, and that is something no Unikrn reviews complain about.
Live Betting Service
5.0/5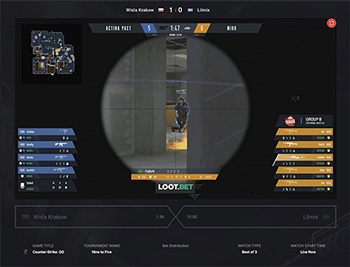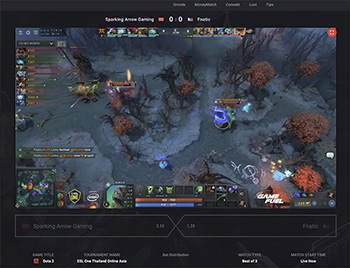 Live streaming was introduced here early on, and now it is considered a definite feature of a good esports site. As we've mentioned before, Unikrn has gone even further and managed to introduce the streaming of older matches in an intriguing way. So, you can imagine that streaming current events is definitely managed in the best way possible.
If your Internet connection is good enough, you will be able to enjoy the match without any troubles and with the best quality. If not, lowering the quality a bit could resolve the issue. The fact that the window remains seen as you scroll down the page makes live betting very convenient.
Unikrn Payment Methods
4.0/5
You can play using real money you deposit or Unikrn Silver, the currency that is only valid on the site and can be received in various ways, including for simply signing-up. One more option is to top up your account with Bitcoin, Ethereum, Dogecoin, Monero, and some other coins, but they will all be converted to Unikrn cryptocurrency (UKG) to be used on the site. But don't worry, when withdrawing, it will be in the currency you chose.
As for depositing fiat money, we feel like there could be more options for the ways to do that. It most likely depends on the region, but we got the following options:
Skrill
Visa
PayPal
Rapid Transfer
Instant ACH
Neteller
U.S. players can also enter "PLAYUSA" in a special field here, which is a Unikrn promo code that should grant them 10 dollars they can use to bet on themselves in Umode or other modes that may become available to them.
Also, to be able to cash out your winnings, you first need to confirm your identity, which may take 2-3 days. This is an understandable procedure, although some may not expect this waiting time since no one asks you for it when you are making a deposit.
User Interface
5.0/5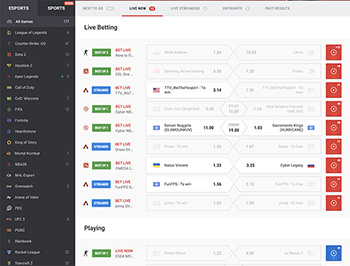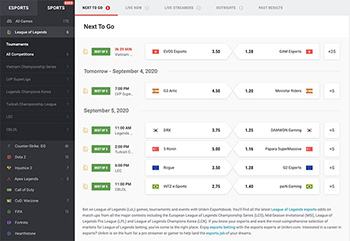 The site has a very clean and professional look, and everything is easily accessible either via menus at the top or grouped links at the bottom of the page. The color scheme is easy on the eyes, and a bright splash here and there makes things just vivid enough.
The team also did a great job with the site's display on mobile phones, we found it equally convenient, and everything was still there and easy-to-locate. There is an app that looks just about the same way, which is a great plus, you don't have to figure things out all over again if you used to bet in a browser.
Customer Support
4.0/5
Surprisingly, Unikrn does not offer customer support over the phone, only email and live chat messaging are available. The latter is also not 24/7 like we would expect from such a prominent esports provider, it's available every day 8 AM to 11 PM Central European Time. So, that's probably the major disappointment we've had with Unikrn.
If your Internet connection is good enough, you will be able to enjoy the match without any troubles and with the best quality. If not, lowering the quality a bit could resolve the issue. The fact that the window remains seen as you scroll down the page makes live betting very convenient.
Is Unikrn Legit?
Although it's great to know that the site has been in operation for over half a decade and has a lot of praising feedback, you want a definite answer, "Is Unikrn safe?"
Well, it seems to be as safe as an esports site can be. It holds the license of the Isle of Man, which is notably more difficult to receive than some other gambling licenses. Additionally, the site holds the seal of approval of the Esports Integrity Commission (ESIC).
We've also mentioned some famous investors, it's highly doubtful that they would want to publicly associate their names with a company without making sure it's legit first. So, it is definitely one of the most trustworthy platforms you can find out there.
Conclusion
Unikrn is certainly not only one of the best betting sites for esports fans in the whole world, but also one of the most innovative one. It keeps growing and expanding both in terms of the available games to bet on and in regards to new betting modes and features it introduces over time. It already offers well-implemented live streaming of countless matches, competitive odds, and support of various cryptocoins, including its own.
Then, pay attention to the covered leagues and tournaments, the availability of live streaming and in-play betting, the range of markets. The most reliable CSGO betting platforms will also offer superb odds, and those are Loot.bet, ArcaneBet, Unikrn, GG.bet, and Betway. For newer experiences, you may consider DraftKings and Puntt.
Unikrn's signature features like Umode, Connekt, and MoneyMatch allowing users to win by being the players, not simply spectators, make this site truly unique. What's even greater, it allows customers from certain regions to participate since this form of betting is considered legal for them. Daily loot draws and generous welcome bonuses make it hard to keep up with everything Unikrn has to offer. Jump on to see what they will come up with next and take advantage of it among the first ones.
Visit site