Visit site
Summary
Our total score:
4.75/5
Loot.bet is a true esports betting leader that offers a staggering amount of wagering options. CS:GO, Dota 2, StarCraft 2, Overwatch, LoL are only the tip of the iceberg made up of gaming titles punters are looking for. It's tough to keep up with this bookmaker, especially since it offers great odds, and 100 of the most active bettors get guaranteed prizes every week.
We had a real difficulty trying to discover any weak points, but the site held up pretty well.
Our total score is 4.75
Find out what went into it.
PROS
Fantastic variety of games and markets to bet on
Multiple currencies supported, including crypto and skins deposits
Slick interface and great mobile experience
Loot.Bet Ladder weekly promotion for active bettors
CONS
Could use more payment methods, no PayPal support
Some countries may be restricted
About the Company
There's not much known about the history of Lootbet, other than it is a brainchild of Livestream Ltd. and that it has been very successful in getting to the forefront of esports betting since its launch in 2016. Now, it's an established website that has made its name known not only by being a sponsor on gaming events but also by holding its own Counter-Strike and Dota 2 tournaments. That alone should tell you how serious this company is in its approach. So, it's no wonder why many punters head to this site for the definitive betting experience. Let's take a closer look at what exactly it has in store for you.
Esports Offered
5.0/5
When you click on the tab Games at the top of the page, you will see a lot of slots and arcade games, some of which will be inspired by popular gaming titles like Counter Strike, World of Warcraft, PUBG. Don't be in a rush to leave just yet if that's not what you came to the site for. It's the Bets tab that interests you, that's where all the esports betting takes place.
And LootBet has gathered 25 games under its roof so far, constantly adding new titles to the list. So, naturally, you will have the most expected betting options, some of which are:
LoL
CS:GO
Dota 2
Starcraft II
PUBG
Rainbow 6
Call of Duty
Overwatch
Then, there is also a good deal of sports simulators if you want to benefit from those tournaments, particularly:
You can check the rest by visiting the site and see if they have already added some more games, but we can say with absolute certainty that the Lootbet esports list does not have many competitors.
Odds
5.0/5
The richest choice of games and betting options would mean little if the odds were low and promised little profit. Fortunately, this is not so, and the site does a great job offering some of the highest outcomes you can find. This may not be true for every match, and you may want to seek the best odds for a particular event if you are looking for the biggest payout. However, if you feel reluctant to do that and prefer to stick with just one or a couple of spots, Loot.bet is definitely one of them. The site successfully holds the leading position by consistently offering great odds for various games.
It's also worth mentioning that the bar at the top of the page allows selecting one of the five odds formats: American, fractional, standard, Hong Kong, and percentage. This just goes to show that the company is eager to accommodate the widest audience.
Markets Variety
5.0/5
There are three things that influence the total number of betting options here. First, the number of games, which we've already covered. Next, the number of tournaments. Most bookmakers will have one or two major leagues, often leaving you nothing to bet on in-between the seasons. If your game of choice is CS:GO, LoL, or Dota 2, you're in luck, because LootBet has all kinds of leagues covered for these three. Other games may only have the major tournaments displayed, which may be disappointing for some bettors. However, to be fair, not all games have a dozen different leagues, and it's great when the site offers at least a couple of them for the title. There is also a chance that more will be added later.
And now we've come to the final factor, and that is the quantity of betting markets for a single match. In case you are unfamiliar with the terminology, these are some smaller match outcomes and events you can try to benefit from predicting them. For Loot.bet CSGO matches, some of those would be the winner of a pistol round, first blood, kills by a certain weapon, etc. For LoL, you can try to guess the team to destroy the first tower, slay the Baron, get to 5/10/20 kills, and so on. And the great thing is that LootBet does offer impressive lists of these markets for many games. So, with all three factors covered, you get an immense number of wagering opportunities.
Loot.bet Bonuses and Promotions
5.0/5
It's hard to surprise anyone with a welcome bonus anymore as at least all the most recognized betting sites offer some kind of incentive for newcomers. On this site, it's quite a standard offer, and you can get up to 100 EUR or equivalent as a 100% match on your first deposit, which should be at least 10 EUR. You will then have 15 days to get a 10x rollover on your bonus to reclaim it, betting at least with the odds of 1.79. Additionally, you get 10 bonus spins in the esports-themed slots with your first deposit.
There is currently another similar promo active on the site, one which all users can participate in, not only new ones. By using the Loot.bet bonus code HEAT, you will get a 50% reward of up to 100 EUR or equivalent, as well as free spins. This is already more promotions than some sites have, but if it seems too unimpressive for you, this next one deserves a separate section of our review.
Loot.bet Ladder
An impressive promotion event is currently taking place. There are weekly stages with the results announced every Monday, and the ultimate winners will be announced on the 6th of October, 2020. The idea is very simple – if the bets you place qualify according to the terms (single or combo bets with odds from 1.30 to 50), you will automatically receive xp points and be added on the leaderboard. If you happen to be among the top 100 entries, you will be rewarded with a prize that depends on your position and the type of the week. The first place is worth 300-500 EUR, the next nine positions also get money to their bonus balance they can also transfer to the real money account after getting it rolled over just one time. The rest get free bets, each worth 3-8 EUR.
Whoever accumulates the most points over the quarter by the time of the Ultimate ranking will get 3000 EUR, the next person in line – 1000 EUR, then 500 EUR, and so on. We hope you are reading this Loot.bet review in time to still get on that leaderboard, and be at least a weekly winner. If not, there will definitely be another Ladder and other promotions to take advantage of.
Live Betting Service
5.0/5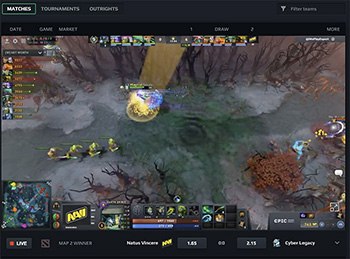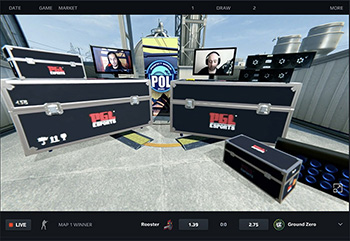 Considering all we have witnessed so far, it would have been utterly disappointing to discover that LootBet had no live streaming of the events. It does, though. If you are good at reading the situation, you can easily place bets during the match while following it right there on the page and scrolling a bit down for the available wagers. There's also a tab with streamers whose performance you can bet on, so that's even more chances of always having something going on in your favorite game.
Loot.bet Payment Methods
4.0/5
The site accepts several currencies, USD and EUR among them, while cryptocurrencies are represented by ETH and mBTC. Depending on the country, you will get different lists of payment methods, some of them being Visa, Mastercard, ecoPayz, Skrill, Neteller, Qiwi, ePay, and others. Unfortunately, it seems PayPal isn't supported.
The good news is, however, that you can bet on Loot.bet Dota 2 and CSGO matches by using Skinpay as a way to replenish your account. You won't be able to withdraw skins, though. However, you can sell them and cash out real money, so that seems good enough.
User Interface
4.0/5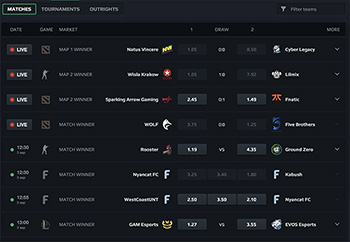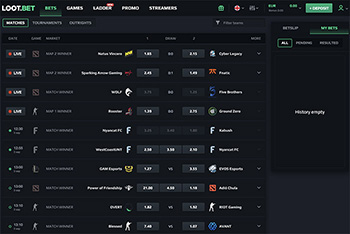 The site has a distinctive look, so it would be difficult to mistake it for any other esports place. The design is slick and very "gamery", it's a real eye candy. The interface doesn't lag behind, which is no less important. Most everything can be accessed via the top bar, which also lets you adjust the language, timezone, and currency besides the odds format already mentioned above. This is also where you can enter your profile dashboard.
It's important to point out that live streaming and betting can easily be done on your mobile gadget. There is a Loot.bet app, we found it really neat, although if you access the site in a browser, the mobile version will look and function in exactly the same way. Which we actually consider a great plus. However, we couldn't get the video to be shown in full screen without going over to Twitch on mobile, so maybe that's an embedding issue. Other than that, we found no complaints about the site's interface and functioning.
Customer Support
5.0/5
Loot.bet live esports betting may require immediate assistance. The site's administration seems to understand that, which is why its customer support service operates day and night. There are several ways it can be reached. A Cyprus-based phone may not be ideal for everyone and turn out a costly option. An email address is available, but it may not feel like the right way to discuss urgent matters. Then, you can click the live chat button in the bottom corner of the screen. We especially enjoyed how noninvasive it feels while still being easily noticeable. We tested it and were satisfied with a reply in no time. You can also reach the company's representatives on various social media where LootBet is officially present.
Is Loot.bet Legit?
Everything we've discussed so far can mean nothing unless we can give a positive answer to the question, "Is Loot.bet legit?" There's no need to create intrigue and beat around the bush, so we'll just answer, "Yes, it's as legit as it gets." First of all, the site operates under the Curacao Gaming License. Secondly, it has been approved by the Esports Integrity Commission. Finally, LootBet complies with the Payment Card Industry Data Security Standard, proving that it can be trusted with your payment details and that they will be handled with the necessary security measures in place.
Conclusion
Loot.bet is one of the finest sites in the esports betting industry right now, and you can probably see why by reading up to this point. It's a licensed company, which comes first of all. It's been on the market since 2016, so there are enough reviews and customer feedback to get a general impression.
Now, there may not be any unique features, but this site sure has all of those you would expect it to have, it's the embodiment of an esports wagering platform. Besides the great interface, attractive odds, and regular promotions, LootBet is most notable for the variety of games, leagues, and betting markets it has gathered. There are no dull moments here, and you can always take a break and use those free spins you get for joining.
Visit site