Visit site
Summary
Our total score:
3.9/5
Betway is an all-inclusive gambling site since it combines a casino, a sportsbook, and esports. It would be a great choice for those who are interested in different forms of gambling, and since it's a well-established platform with relevant licenses, it's also a safe starting point. More demanding punters may benefit from its odds on Betway-sponsored matches, as well as enjoy new chances to profit from its unique and numerous betting markets. All this can be done on the go or from any place you feel comfortable to stay at due to a smooth mobile experience.
Our total score is 3.9
Further reading will provide you with a detailed account of the arguments in favor of or against this esports bookie.
PROS
A decent collection of esports
Superb coverage of leagues and tournaments for popular games
Numerous and fun betting markets
Improved odds for certain matches
Smooth mobile operation
CONS
Betway esports US bettors are restricted
A convoluted way of reaching customer support
An unimpressive new users bonus with strict requirements
About the Company
Betway was established as far back as 2006 as an online casino and a sportsbook. It was one of the first such sites to incorporate esports in 2015. And it didn't stop at simply offering odds for popular games like Counter-Strike: Global Offensive, Dota 2, or League of Legends. Willing to show that the company is serious about its new betting section, it started sponsoring teams and gaming events. A long-time sponsorship of the professional team Ninjas in Pajamas remains one of the most notable Betway esports CSGO deals deals. Other collaborations include the Brazillian esports brand MiBR (Made in Brazil), BIG (Berlin International Gaming), and the renowned DOTA2 team Invictus Gaming.
Betway has also made itself known as the sponsor of various leagues and competitions, namely such CS:GO-dedicated tournaments as BLAST Pro Series, the ESL Pro League, and the FACEIT London Major. It even holds its own competitions, a five-event series Betway Arena Dota 2 being one of them. So, this is more than a simple betting site as it has been actively providing its customers with events to bet on.
Esports Offered
4.0/5
As you might understand from the teams and esports events Betway sponsors, it supports CSGO and DOTA2 activities, and therefore, it must have those games in its catalog. And you'd be absolutely right to presume that as those games are of course present here. Now, with those two titles, you can expect League of Legends to be nearby, and it is.
That's not the whole list, and even though it's definitely not the most impressive one, it's decent enough. The remaining titles are pretty popular games in the esports world, so the fact that Betway has them open for betting already makes up for their small number:
Overwatch
Call of Duty
Starcraft 2
Rainbow Six
Valorant
Odds
4.0/5
We were rather satisfied with the games selection we found on the site, but what about the odds? Well, we have done a diligent comparison for the current and planned matches. And we will be honest, the odds offered by Betway often did not match the most generous returns on wagering investments. However, it's not like they were the lowest of what was offered. In general, the odds were within the range of what you would find on the top esports gambling platforms, and for certain matches, Betway did offer the highest figure. This mostly happened for those games that don't get a lot of coverage across all the sites.
Also, you can expect higher odds for matches that feature the teams Betway is sponsoring, as well as the events it is related to. So, if you happen to be interested in those, this would definitely be the place to check for the best odds. Experienced bettors willing to register at various websites for odds even a few decimals higher than everywhere else should add this site to their bookmarks.
As for newcomers, they should be able to learn how to benefit from esports with the available odds. Betway esports betting limits are another reason why this platform is a good starting point. The smallest wager you can place is only $0.10, and that means that you get to learn from experience without risking too much money. It's up to you when to raise the stakes, and there may be bets with higher entry limits, so you can check those for yourself and decide when you are ready to try them.
Markets Variety
5.0/5
CS:GO and LoL have the best leagues coverage on the site, with over a dozen various competitions each. Betway Dota 2 options are less numerous, but considering the seasonal nature of tournaments, you can easily expect there to be more events, depending on the time you visit the page. The other games have even fewer leagues listed, but that's a standard picture since those are not as popular as the above-mentioned esports trio.
Most sportsbooks and gambling sites that attempt to pose as also esports betting places tend to only add the main betting markets. That means that no matter how many games and leagues they cover, you won't have anything else to bet on other than the winner. Betway, however, offers an array of options, although their number for each match is not displayed until you click on it. This is when users discover that they can try to guess the maps handicap or maps total, whether a team will win at least one map, which team will score the next kill, whether there will be a kill using a specific weapon, whether the number of kills will be even or odd, what the type of the dragon will be, whether one or both teams will slay a dragon, what heroes will be picked, and so on.
There are also combined outcomes that are, of course, less easy to predict, let alone to happen, but they also offer a higher return on your wager, for example, if you guess the team to make the first kill and win the map. We were quite impressed by the variety and uniqueness of some betting markets. They alone make Betway worth a try.
BetWay Bonuses and Promotions
3.0/5
At first glance, there seem to be a lot of promotions, both regular and temporary, with new ones introduced all the time. And this is true, but only if you don't limit yourself to esports. Most of those bonuses pertain to the casino and sports sections, and Betway esports betting is not always considered part of the latter one. So, one promotion that you can definitely count on is the welcome offer.
However, it's really nothing to be impressed by, as the most you can get with it is a $30 fee bet that comes as a 100% match on your first deposit (this has to be at least $10). Sure, it's still free money, and you ought not to look a gift horse in the mouth. Once you read all the terms for it, though, it really fails to compete with any similar bonus offers. How do you like that free bet expiring seven days after your deposit? That's the time you have to clear it, and you can only place it as a single bet of its full amount.
There are a lot more requirements, but the only one we'll mention here is that you have to reside in Ireland or the UK to even qualify for the free bet in the first place. If you do, however, make sure to familiarize yourself with the terms before depositing your account.
Live Betting Service
4.0/5
Being able to place bets as the match progresses has become an attribute of a platform that covers all the options, and Betway is not an exception. Not only will it take your bets and display the changes in odds, but also let you watch the ongoing match right there on the page. Although this is not something to be surprised by, some sites manage to make this experience an unpleasant one. Luckily, this is not the case with Betway, this function is realized quite well here, so watching the game and placing bets is convenient enough here. We do, however, feel like the space on the left from the stream window could be utilized in a better way, so that there would be no need to scroll down to see all the markets.
BetWay Payment Methods
4.0/5
Due to its long history, Betway has no lack of payment methods users can deposit their account with and withdraw their winnings. We will, however, point out right away that no cryptocurrencies are supported, and that is considered a drawback in our Betway review.
Other than that, there is expectedly a good variety of options, but most importantly, those methods are also quite diverse. With bank transfers, credit and debit cards (Visa and Mastercard), phone banking, e-wallets (PayPal, Neteller, ecoPayz, Skrill), and prepaid cards (PaySafeCard, Entropay) nothing is off the list here. Keep in mind, that for withdrawals, verification is required.
User Interface
4.0/5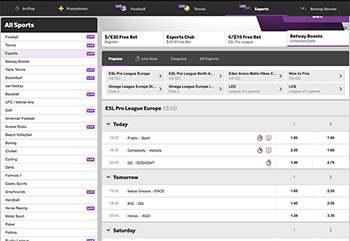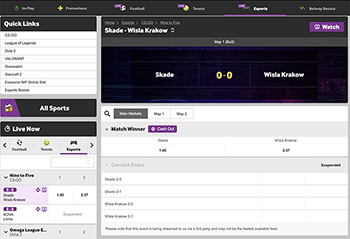 Betway has the look of your regular sportsbook, which is tasteful enough but may feel overwhelming to some users. Since esports were incorporated into it at a later point in its history, that section is styled after the sports part of the site. That is, of course, just a matter of taste, and no reason to bash Betway for it.
As for the navigation, it may be tricky. There are way too many menus and clickable links, often several of them for the same page. One would think that makes things easy to find, but it can actually make you feel lost here. The site clearly could use some reorganization.
For that reason, we found its mobile version way more convenient in certain aspects. Because of the need to provide compact experience, things are easier to find and access. And then, there is a Betway esports app for both iOS and Android, which differs from what you will see in your phone's browser. That option has its own advantages and may be a preferred way to interact with the site for some users.
Customer Support
3.0/5
There is only one method of communication with Betway customer support, and that is a live chat. However, finding it is a real quest. Many Betway esports reviews seem to be complaining about it, but, apparently, to no avail.
There's no convenient live chat button on every page. There is, however, a "Support" button at the top. Clicking it will open the FAQ section. You can try to find the answer to your question on your own. If there's no solution, you need to answer that the article wasn't helpful, and that's when the link to the live chat will appear. But before you can ask anything, you need to fill the fields with your name, email, postcode or address, and a contact number.
After all that, the support agents prove to be quite helpful, and the answers come quickly enough, as the support works 24/7. Why such a long-running enterprise has not improved the process of reaching its support is beyond our understanding.
Is BetWay Legit?
Considering the site's long run, it feels like the question "Is Betway legit?" isn't really necessary. We still have to answer it, though. So, the site belongs to the company Betway Limited, approved by the Gambling Commission to operate in Great Britain and by the Office of the Revenue Commissioners to provide its services in the Republic of Ireland. In certain other countries, namely Belgium, Sweden, Italy, Denmark, Mexico, and Spain, the licenses are granted by each of those countries' relevant authorities. All other territories fall under the license issued by the Malta Gaming Authority or MGA.
Conclusion
Betway certainly has its share of inconveniences, some of them being a somewhat disappointing welcome offer, the cluttered interface, and the complicated way of reaching customer support. However, if those things don't bother you, the advantages are even more prominent. The competitive odds, the array of payment methods and currencies, and well-implemented live betting with streaming are what you expect from any noteworthy esports site, and it's all present here.
Betway is most notable for its decent selection of games and truly amazing and unique betting markets, offering some fantastic betting opportunities that can hardly be found anywhere else. And you can expect higher odds for the teams and events it sponsors, whose number grows every year.
Visit site