Visit site
Summary
Our total score:
4.5/5
LuckBox is a licensed platform for esports fans who enjoy the richest variety of betting choices and trouble-free experience. The site provides some of the best live betting tools and is just as efficient when accessed on mobile devices. The company also has ambitious plans that, if carried through, are bound to make LuckBox a true esports betting sensation.
Our total score is 4.5
Find out what makes this esports provider great and whether it's the right one for you.
PROS
Unique markets and a variety of leagues
A wide range of payment ways with several cryptos among them
Well-implemented live streaming with simultaneous betting and stats
Well-thought-out optimization for mobile betting
CONS
Customer support is only available via email
PayPal is not supported
About the Company
LuckBox is the concept that Lars Lien and Mike Stevens created and started realizing back in 2016, raising most of the funds through contributors and the ICO sale. In 2018, LuckBox was launched, and its swift ascension to the top of the esports betting industry has proven that its creators' approach was working. The site was to be focused solely on egaming rather than adding it as a bonus option or trying to cover all forms of gambling at once. Not to say there are no companies that successfully juggle all the options, but LuckBox did what was right for it.
It's safe to say that the company will only expand and grow, as LuckBox IPO plans seem to be going more than well. They overperformed at the funding round, raising around 5 million CAD instead of the initially planned 2-3 million. According to Quentin Martin, who changed Lars Lien as the CEO in February of 2020, LuckBox's public listing on Toronto's TSX Venture Exchange should be finalized by October 2020, making it only the second esports company with a public listing on the planet. All this not only shows the investors' interest in and trust to LuckBox but also opens new doors for the platform's further development.
Esports Offered
4.0/5
Naturally, LuckBox couldn't have gotten to where it is now in such a short time without offering a good selection of games. And while its list of 13 titles is not the longest one in any way, they strive to provide the best coverage for the games available at the moment. They include some of the anticipated titles like Counter-Strike: Global Offensive, Overwatch, Call of Duty, Rainbow 6, Dota 2, League of Legends, then some less common esports like Hearthstone, Starcraft, FIFA and NBA simulators, and a few more.
There is obviously a growing interest in wagering on esports and a more advantageous position of the latter ones compared to traditional sports. And when we recall the new resources and a wave of new bettors LuckBox is getting due to its initial public offering, it's clear the company will soon pour some new titles into its section of the offered esports, making it even more varied and more attractive to an even wider audience. So if by chance you haven't spotted a particular title or even a genre, it would be wise to monitor the LuckBox esports offers for new additions.
Odds
4.0/5
The two minds behind LuckBox used to work at PokerStars, and not on the smallest positions, so their extensive insight into the online gambling industry allowed them to see what a proper esports betting site should be. They were frustrated to see the lack of competitive odds for gaming competitions and no apparent understanding of what the audience needed. And, apparently, they managed to fill those gaps, making the site a much more preferable option compared to the many pre-existing providers of esports gambling.
When it comes to LuckBox CSGO, DOTA 2, or LoL odds, for example, it's tough to always offer the most favorable wagering conditions, especially when legendary teams and players clash on a virtual battlefield. Nevertheless, we've discovered that even when the site wasn't offering the most lucrative ratio, its rewards were still among the top ones found across the industry. So, if you don't feel like checking all the sites for the absolutely highest money wins, you can enjoy consistently competitive odds at LuckBox.
Markets Variety
5.0/5
This chapter of our LuckBox review will clearly show why the site is worth joining, even if you don't get the highest odds here all the time. Unless you are interested in only betting on the winner and not going deeper into the game to make a bunch of other predictions that most sites may not even list. We are speaking about the markets variety, and this is where LuckBox is practically unrivaled a lot of the time.
Depending on the game, it may only offer to predict the winner or a couple more things like individual rounds winners or the total number of maps. In other cases, you'll see dozens of positions you could choose to place money on. That, of course, means there will be good odds that may simply be the best because there will be no sites to compare them with.
LuckBox DOTA 2 and LoL betting is very similar due to the games being representatives of the same genre, and so you get to get to guess things like the first team to draw blood, the team to have the kills advantage on each map played, the team to have the most kills, the total number of slain barons/destroyed towers, and so on. For League of Legends, the bookmaker is often offering as much as a hundred positions (sometimes more), and most of those will be unique wagering opportunities hardly presented anywhere else.
Luckbox Bonuses and Promotions
5.0/5
Despite all the leagues, betting markets, and great LuckBox odds, it's difficult to persuade new bettors to join the site unless it offers a decent reward for doing so. That's just the way things are, and since so many platforms do offer welcome bonuses, why choose the one without them? Once again, the people at LuckBox.com seem to understand that, which is why they greet newcomers with doubling their initial deposit. One can get up to 100 bonus dollars this way, and there are rules to clearing them, which are pretty standard and quite achievable.
And while many esports sites would stop at that, LuckBox has no lack of promotions. Some of them are seasonal or one-time offers, so it's worth checking the page with the bonuses list and their conditions. You can look for bonus codes on the site or the company's social media, and things like a loyalty bonus code will be emailed to you when you are considered to qualify for it.
Live Betting Service
5.0/5
You won't be surprised with the opportunity to watch the game directly on the site and place wagers as the match unfolds anymore. However, it's always nice to see when this feature is done right, and LuckBox once again serves as an example. Besides, with the extensive LuckBox League betting, there are live streams pretty much all the time, so smaller events are not ignored, and the users get non-stop betting opportunities.
The streaming is very smooth, and we even checked it with a slower connection. What we really loved is how everything is organized on the screen. Some sites just let the embedded player take up all the space and shove the betting odds and options underneath so that you have to scroll down and miss the action. LuckBox instead offers a convenient panel on the side that has three tabs in it, bets, chat, and stats. This is a very simple solution that improves the experience immensely, and it proves that the company thinks things through rather than doing them for the sake of having them on the site.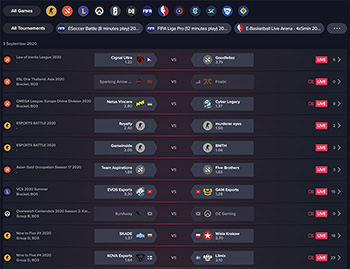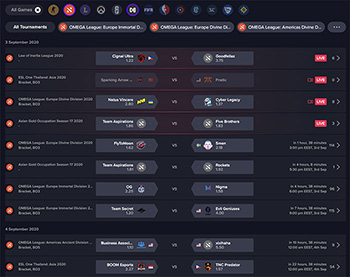 Unikrn Payment Methods
5.0/5
The list of methods and systems you can use to top up your account and cash out your available funds should satisfy most of the customers. Take a look at the full list and see for yourself:
Credit/Debit Card
Trustly
Skrill
SafetyPay
Paysafecard
Neteller
MuchBetter
Jeton
Yandex.Money
WebMoney
Sofort-Überweisung
QIWI Wallet
EPS
Bank Transfer
CrylitoPay
CashtoCode
AstroPay Card
Of course, it's nice to see some country-specific methods, considering LuckBox's scope of operations, but there is room for improvement. For example, we were disappointed not to see PayPal, which is quite a popular option when it comes to online payments. Luckily, the bookmaker supports cryptocurrency, and even several of them (Bitcoin, Ethereum, Litecoin, and Ripple). That grants the LuckBox betting platform additional points from us.
User Interface
5.0/5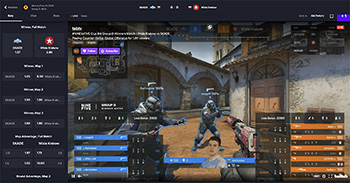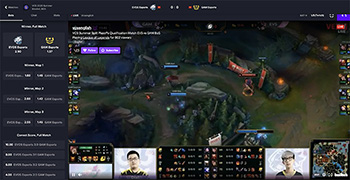 LuckBox can't be mistaken for any other site after you first visit it. It has a recognizable and stylish design, and the interface is extremely user-friendly. We definitely enjoyed how everything is organized, it's easy to get around and find things, although there are a few unnecessary clicks we'd be happy to get rid of. Like, at the top, there are three tabs, and a couple more (Help Centre and Blog) can be accessed in a dropdown list that opens by clicking on three dots. Why this was necessary to do is unclear to us, there's enough space to fit it in the same line as other tabs.
That is pretty much our only complaint, and it's related to the desktop version. With mobile LuckBox esports betting, it makes much more sense. Things are rearranged in a bit different manner, yet everything is very close to the way you see it on a computer. Unfortunately, there is no LuckBox app, only one for the news. However, we agree with the article in the blog that details various steps towards making the mobile version of the site a fully-functional and user-oriented alternative to the site. Those are not mere words, the team achieved exactly what the article promises. Even with accessing the site via a browser and not an app, it's a joy.
Customer Support
3.0/5
This is where our main disappointment comes from. There is neither a live chat nor a phone number to contact customer support. The only available options are sending an email or seeking help on the dedicated Discord server. And it's clearly stated there that you won't find LuckBox support agents there, so the email is the only official way to address your questions and concerns. And, well, maybe on social media, but that's another story.
Granted, we did not experience any real troubles on the site during our testing and exploration, and a neat FAQ section is quite helpful in covering most basic requests. Also, we sent several questions and received emails with satisfactory answers in a very short time. And, finally, the Discord chat can be very helpful as well, because users who may have experienced the same problem before may help you deal with it.
Nevertheless, we believe that such an ambitious and successful company just got to offer more channels of communication with its representatives.
Is Luckbox Legit?
We couldn't be excited about all of the previous features unless we could positively answer the question, "Is LuckBox safe?" And we can, and it is. Its license comes from the Gambling Supervision Commission, a regulatory body known to be very strict when it comes to granting approvals. Besides, the company's decision to go public is connected with additional checks, revealing of its documentation, and proving it's as legit as it gets. And even though it hasn't been listed yet, the mere decision to do so proves that LuckBox owners are sure they can testify the safety and legality of their operations.
Conclusion
LuckBox is not to be ignored by any esports betting enthusiasts, and if you have been reluctant to join before, now is the time. The young company has already shown great results and managed to get to the forefront of egaming wagering in just a couple of years. This became possible due to a clear understanding of what a proper platform should be like and successful following up on that idea.
A great games selection, competitive odds, unique markets for all kinds of leagues, constant promotions, and a fantastic website that is a joy on both desktop and mobile devices. What else is there to ask for? Whatever minor inconveniences we have discovered, we are almost sure those will soon be eliminated, and LuckBox will only strengthen its positions.
Visit site