Visit site
Summary
Our total score:
3.75/5
ArcaneBet is an all-around gambling platform that will be just right for those who would like to combine esports and sports betting with casino amusements, slots, and live casino options. Either way, the site offers great coverage for DOTA 2, CS:GO, and LoL, and at times it has some of the highest odds, especially for smaller events. ArcaneBet has a simplistic and functional design, and it works perfectly on mobile devices.
Our total score is 3.75, and you can find out more about the factors that influenced that score below.
PROS
Competitive odds
A great variety of leagues and markets
A solid selection of money transfer methods
Mobile-friendly design
Sports betting and casino games are also available
CONS
No live streaming
Customer support isn't 24/7
A small welcome offer with demanding terms
About the Company
ArcaneBet can no longer be considered a newcomer in esports as it has been taking bets on virtual competitions since 2017. Although the Arcane Bet esports section comes first, it's not the only form of gambling the site specializes in. The other directions are traditional sports betting, casino games with thousands of slot machines, and a live casino. The main achievement is probably that none of these sections feel tagged-on, they offer standalone experience depending on what draws you more at a certain moment or in general.
Not much is known about the people behind this gambling platform, except for the fact that it's run by TH Gambling N.V. However, based on our experience using the site, it wouldn't be far-fetched to say that it is designed with a clear understanding of the industry trends. Besides, ArcaneBet has been granted a Curacao gambling license, meaning that it also complies with the necessary standards. Now, let's see how well it deals with satisfying the esports fans' expectations.
Esports Offered
3.0/5
It's very easy to find this website disappointing if they don't have the game you intend to place wagers on. And there's a high chance that can happen for many visitors since the gaming library is modest at best. There's no such chance as ArcaneBet Fortnite betting, and it's unclear whether it will become available any time soon. The reason we're this pessimistic is because the company has been around for a few years now, and if it hasn't extended its selection by this time, there's no reason to look forward to that. And if it does add new games, that will be a pleasant surprise.
Don't get discouraged just yet if that sounded like we were too hard on ArcaneBet. Most esports seekers are likely to be quite content with what they'll discover here. After all, the most popular gaming titles that define esports gambling are present and well-covered here. Those are, of course, CS:GO, Dota 2, and League of Legends. Any site that has this holy trinity already qualifies, and having additional options like Overwatch, Starcraft II, and King of Glory is enough to widen the audience. If you are familiar with several of the games listed here and feel confident enough in predicting matches results for them, you may not even have any complaint regarding the titles library.
Odds
4.0/5
Having examined the odds at ArcaneBet, we came to the conclusion that while the platform cannot boast having the best odds all the time, there are matches when it does offer the highest payout. In general, the odds are quite competitive in case you find the site fitting your purpose in every other regard. They will definitely help newcomers profit while learning the craft of an esports bettor.
And as you get the hang of things, or if you already have, you can still use ArcaneBet as one of the sites you check for the match that interests you. Sometimes it does offer the best reward for a correct prediction, especially for some smaller events that most sites won't even cover. So if you are wagering larger sums, it makes even more sense to look for even the smallest advantage. Therefore, you may want to put ArcaneBet on your checklist.
Markets Variety
4.0/5
The ArcaneBet CSGO, LoL, and DOTA2 leagues coverage is admirable, the events of different sizes are presented, both global and local ones. That makes the site a good choice for people who follow their favorite teams and want to bet on them even when they are playing at country-specific tournaments.
The number of betting opportunities is also greatly influenced by the markets present on the site. The above-mentioned games usually offer a lot of things to guess, like the total number of maps played during the match, the first kill, the race to a certain number of kills, kill and map handicaps, which team will be the first to destroy an inhibitor, tower, or a baron on a map, and so on. For larger events, ArcaneBet usually offers up to a dozen markets for these three games. So, there's a good chance to place multiple bets per match, although we've seen sites with much higher numbers of markets.
The remaining titles are only presented by the main events, and you also won't get to predict anything other than the match winner. However, there is rarely a great variety for these games, so we're not going to take any points off our rating for that.
Arcanebet Bonuses and Promotions
3.0/5
New users are entitled to a welcome bonus they can receive by entering an ArcaneBet bonus code. It can be found on the Promotions tab, and you'll notice that there are actually two welcome offers available, and while both grant you a 100% match bonus on your first deposit, one is only worth up to 30 USD, and the other one up to 200 USD. What's the catch?
Well, if you pay attention, you'll see that there are promotions that are valid for certain sections of the site, and the more generous offer is actually for the ArcaneBet casino games and slots. So, maybe you'll figure out it's worth getting that bonus and trying to clear it if you enjoy traditional casino games. Especially since the promotion is also valid for two subsequent deposits as well, up to 200 USD as a 50% and 100% matches. And there are other bonuses if you're into that kind of gambling, but let's get back to esports.
Sports and esports betting enthusiasts can expect a 30 USD bonus, as mentioned before, and it has to be cleared in just 7 days, rolled over 15 times, and only bets of 1.85 and higher qualify. Sure, there's no point in complaining about free money, but ArcaneBet's competitors offer higher incentives that are easier to clear. So, that's definitely not the strongest argument in its favor.
Live Betting Service
3.0/5
Offering users a chance to follow the match directly on the esports betting site and place money, as well as change their bets in-play, is a common practice. ArcaneBet isn't an exception, and it too lets you join the game at any time, notifying about stakes changes. Live betting is implemented quite well, and you don't need extensive experience to understand how it all works.
Unfortunately, despite the convenient tools and responsive interface, this is another section of our ArcaneBet review that won't get the highest score. The reason is simple, there is no live streaming. Sure, Twitch and Youtube are only a few clicks away, but it's a considerable letdown when you're already used to having the stream right there on the page, with all the betting tools and being able to track all the changes easily.
Arcanebet Payment Methods
5.0/5
The platform operates using real money, and any bonus funds will be placed in separate wallets in your account. There are no problems with the payment options you can use as your ArcaneBet withdrawal or deposit methods. Credit and debit card transfers are, as usual, available via Visa and Mastercard.
E-wallets and online payment providers are represented by Skrill, Neteller, Inpay, Sofort, PaySafeCard, ecoPayz, Changelly, RapidTransfer, iDebit, Qiwi, Yandex, and others. The list may differ depending on your country and include some local services, which is, of course, very convenient.
Another way to indulge in gambling at Arcane Bet is by depositing cryptocurrency. Although it is a good sign already, the platform is currently only dealing with Bitcoin. Also, keep in mind that before you can proceed with your withdrawal, you are required to provide the necessary documents to verify your profile. This shouldn't be viewed as a negative thing, of course, and it's not like they don't inform you about this. Every user wants to know, is ArcaneBet legit? But they also want to be sure that other bettors are, and so the site takes care of that matter.
User Interface
5.0/5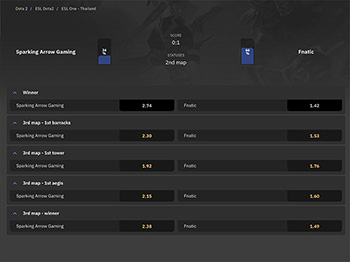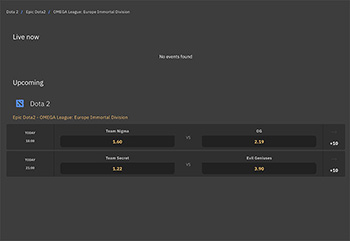 The site's look is nothing unique, yet it's quite demure and easy on the eye. Grey textures prevail in the backgrounds, and there are no annoying or extremely bright elements. However, it's not like the site is devoid of any colors, it sure does have style, and the design suits its purpose.
The navigation is a blast, and once you enter the esports section, you are presented with everything you would need for betting. The user's dashboard opens easily and quickly, offering all the tools for controlling your account.
As for mobile gaming, it can only be done in a browser as there is no dedicated app. This is a bit of a letdown, but at least the site is optimized for it. One could argue that it's even more convenient to use it this way than on a desktop, and the betslip can be easily brought up and collapsed so that it stays visible but doesn't obstruct anything.
Customer Support
4.0/5
ArcaneBet can be reached via live chat or email. We'd like there to be a phone number as an option for those who prefer that method of communication, but alas. Another disappointment came in the form of working hours during which customer support agents are active. It's 09:00 - 21:00 (CET) every day, although for bettors from some countries that will be night. This is also weird to see when you remember that the site constantly features matches that are held outside those time limits.
Apart from that drawback, customer service is exceptional. When we contacted it via live chat within the specified hours, we received a reply in under a minute, and it was immediately followed up by clarifications and relevant links. Scanning ArcaneBet reviews, we also discovered that it's possible to get a response even after hours, and the vast majority of those sharing feedback commended the site on its customer support agents.
Is ArcaneBet Legit?
You should be able to make up your mind regarding this esports provider by now and know what works and what doesn't for you. The final question remains, is ArcaneBet safe? Well, here's what we've got. It holds a Curacao gambling license, and that's the first thing we checked. The site is not extremely popular, yet there are enough reviews to get a certain image, and most of them are positive. The negative feedback is replied to by the company representatives offering solutions. It seems clear that most of those people decided to complain about the site without having contacted the customer support first. Finally, ArcaneBet has a solid reputation, it hasn't been involved in any scandals.

﷯
Conclusion
This esports betting platform is a safe choice for newcomers as long as they discover games of their interest on the list here. ArcaneBet DOTA2, LoL, and CSGO betting options are the most prominent ones due to a decent number of leagues and markets covered. The odds are good in general, and in specific cases, they even offer greater profit than other similar sites. Although the welcome bonus is not particularly impressive or easy to clear, the casino reward is much more promising. If you plan to enjoy both esports and casino sections, ArcaneBet is a great choice.
Visit site